Virtualization brings many benefits to the enterprise. Microsoft's Hyper-V is a well-known type-1 hypervisor built into Hyper-V Server, Windows Server, Windows Enterprise, Pro, and Education editions. You don't need to download Hyper-V and only to enable it in Windows features.
It's necessary to back up your workloads in Hyper-V environment. The efficient Hyper V backup software and recovery solution protects your virtualized assets and restores data as quickly as possible in the event of a disaster.
Built-in Hyper-V Backup Methods
To show you the Hyper-V backup best practices, we should first discuss what options are available.
We should note that Hyper-V checkpoint cannot be regarded as backup, just as VMware VM snapshot ≠ backup. Checkpoints are venerable when you need to restore Hyper-V virtual machines. Generally speaking, here are 4 frequently backup solutions supported for Microsoft Hyper-V VMs.
◆ Manually Copy VM folder: VM folder is frequently used to recreate virtual machines. What you should do is to copy the folder of virtual disks and attach VHD files to create a new Hyper-V VM. If you have multiple VM to manage, this way is not recommended.
◆ Export and import feature: The export and import feature in Hyper-V can also achieve the purpose of backing up VMs. However, if you want features such as deduplication, encryption, compression, etc., so it is not an ideal backup solution.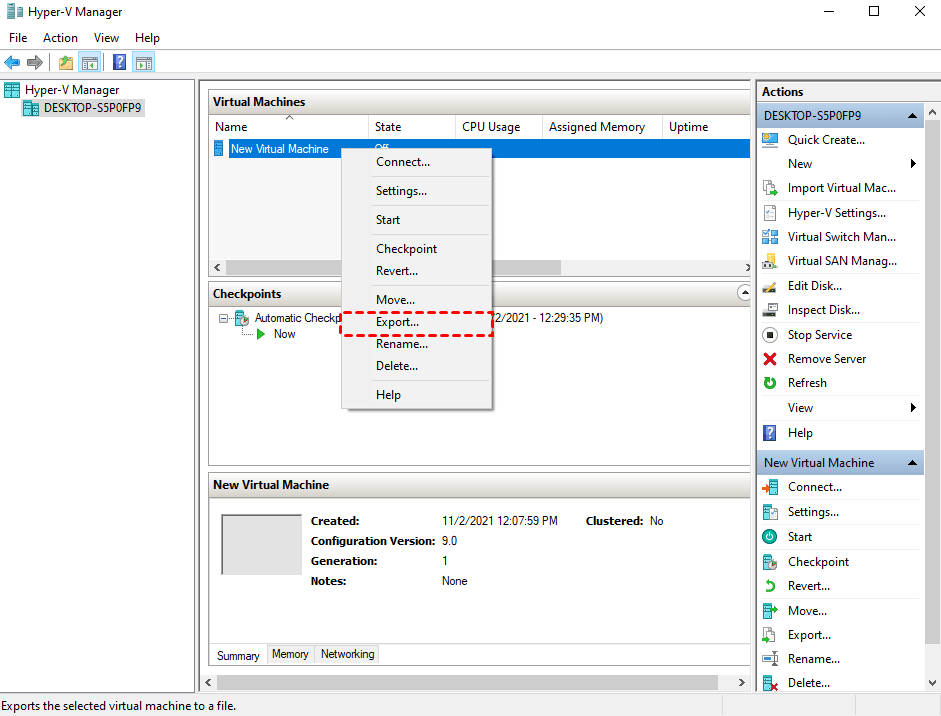 ◆ Windows Server Backup: In Microsoft Hyper-V, Windows Server Backup allows you to schedule automatic backups and copy backups to a remote shared folder. For users who are running a small number of VMs and small to medium-sized companies, Windows Server Backup could offer a complete backup. However, you cannot monitor backup progress and verify backup consistency.
◆ Specialized backup software: To create ideal Hyper-V backups, many administrates choose to use a Hyper-V backup software which offers a high-performance backup and recovery solution for Hyper-V virtual machines.
Despites the built-in features, a reliable Hyper-V backup software enables you to quickly accomplish advanced backup tasks and achieve Hyper-V data protection goals.
Make It Reliable for Your Hyper-V VM Backup
The free Hyper-V backup software can not only improve the data security, also save cost and increase efficiency. AOMEI Cyber Backup helps you to manage backups of unlimited devices with one console and protect all data in VMware, Hyper-V, SQL Servers.
The Hyper-V backup software protects your virtual machines automatically, thus reducing business risks. With this efficient utility, you can enjoy the following features for free:
✤ Multiple Storage Destinations: backup to local or network share destinations.
✤ Automated Execution: automate unattended virtual machine protection and notify via email.
✤ Perpetual Free: you can use AOMEI Cyber Backup Free Edition with no time limit.
✤ Easy-to-use: Backup virtual machine with flexible backup strategies based on a few clicks.
✤ Hot Backup: Backup entire Hyper-V virtual machines while running including OS, configuration, application, personal data and system state.
✤ Restore from Any Point: Restore entire VM from any backed-up history versions with a few clicks.
Steps to create automatic Hyper-V VM backup tasks
To schedule Hyper-V backups, you should bind your Hyper-V host first. Once authorized, you are free to manage and monitor all of backups of virtual machines without installing an agent on each of them.
1. Create backup task: Navigate to Backup Task > Create New Task.
Enter a unique name for the backup task, then select the Hyper-V Backup option.
Select the Hyper-V host and VMs to back up. You can cover multiple VMs in one task.
Specify storage destination as a local folder or a network path to store the Hyper-V VM backups.
Click Schedule tab and choose to perform full/incremental backup on a daily/weekly/monthly basis for automatic execution. Then click Start Backup.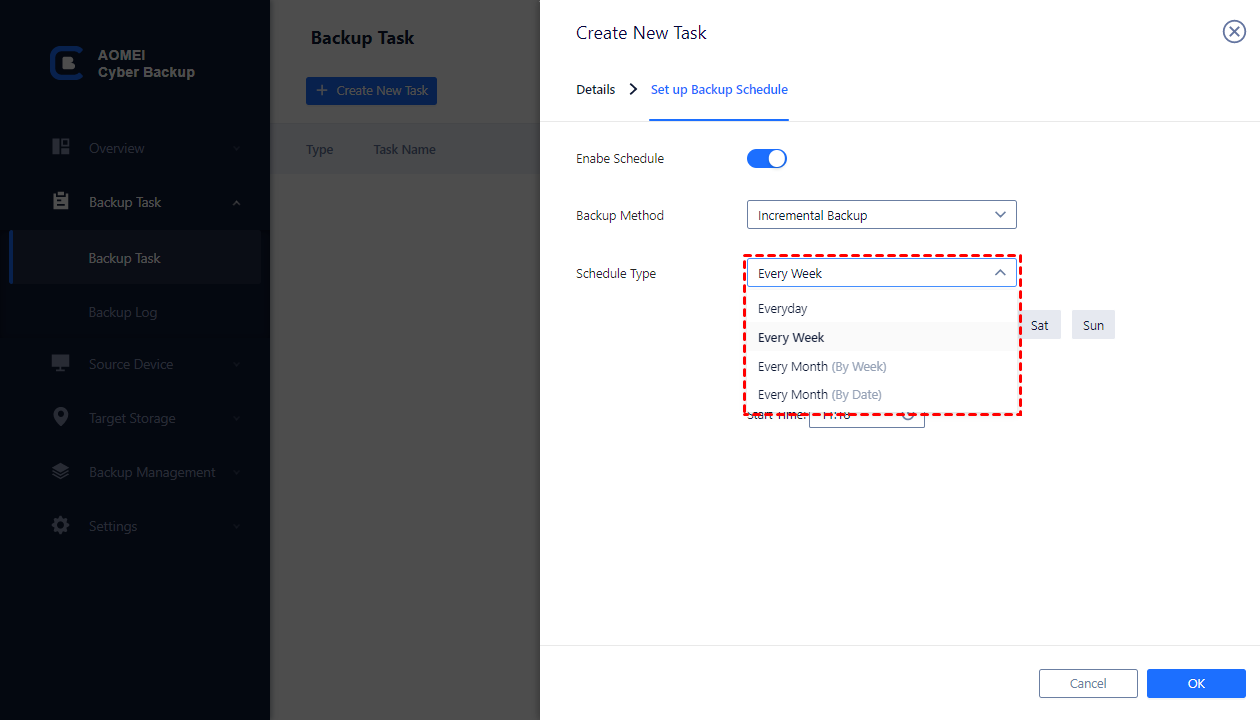 The created restore points will be clearly listed with dates for further restore. The reliable backup schedule ensures minimal data-loss and multiple restore points, which allows you to restore the entire Hyper-V VM from any point you like.
Conclusion
Enterprises often have large amounts of important data especially in the production environment. A secure and reliable backup solution is crucial to ensuring your data security and the ability to quickly recover the important data in the event of a disaster.
In this regard, AOMEI Cyber Backup is your first-pick, which allows you to centrally manage and monitor multiple virtual machine backups, freeing up your workload and increasing your productivity while improving the security of your VM data. Except for Hyper-V, AOMEI Cyber Backup can also backup VMware ESXi VMs.