A thermoforming machine can be used to produce a variety of products. These can include: billow, drape, and matched mold thermoforming. The process involves heating a plastic sheet to a pliable forming temperature and then shaping it in a mold to create a finished product. This article will explain what thermoforming is and how thermoforming machines work. It will also provide you with information on how to pick the right machine for your needs.
Matched mold thermoforming
Thermoforming is an excellent way to produce large parts for cars. Many parts can be created in a matter of minutes. This process is versatile, allowing manufacturers to create all kinds of car parts without the need for specialized tooling. It is also a good choice for prototypes or last-minute shipments.
The matched mold thermoforming process involves the use of two different molds, or male and female, made of metal, plaster, wood, or epoxy resin. These molds distort thermoplastic sheets into a shape that resembles the shape of the mold halves. The process eliminates excess air from the molds to create a tight seal and produces a product with exceptional dimensional control.
When a thermoplastic sheet is required for a specific process, it is heated until it softens. The sheet is then held over a heated mold. The heat provided by the heater softens the sheet, which is then pushed into the mold. The heat transferred to the mold is optimized through a vacuum on the underside of the mold. Once the sheet is molded, the thermoforming machine allows it to cool. Once the mold has cooled down, the molded part is removed.
Twin sheet thermoforming
A twin sheet thermoforming machine can be used to produce thin, rectangular plastic sheeting. To produce this product, both platens must be advanced together and level. This ensures a uniform seam thickness. The platens should also be parallel to each other.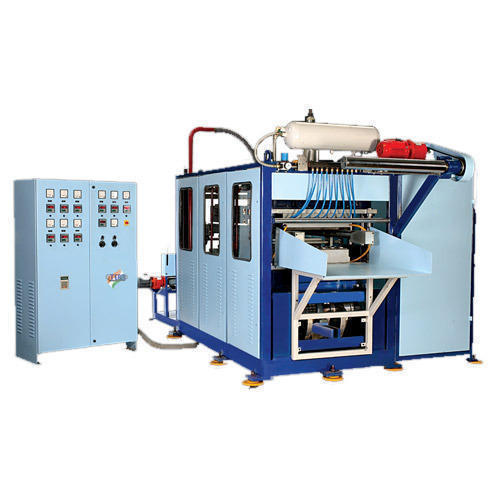 Twin sheet thermoforming machines are highly versatile. They can be used for manufacturing air ducts, fuel tanks, kayaks, automobile body panels, portable toilets, and much more. Twin sheet machines also allow manufacturers to offer different models of a single product line, because they can be modified with existing tooling. Also, with some of the newer machines, replaceable inserts are available to change the styling, model designation, and openings.
A twin sheet thermoforming machine includes a platen assembly at the fusing station. These platen assemblies normally house molds and are described in patents. The twin sheet thermoforming machine includes four electric servo motor/gearbox drive units arranged in two subsets on opposite sides of the associated platen. Individual operation of the servo motors level the platen during set-up. The program listings for the machine are available on the appendix CDs.
Billow forming
Heat is applied to a sheet and it is subsequently stretched and inflated to take the shape of the mold. Air pressure is applied from the plug side and the heated sheet is inserted into the mold cavity. When the part is cooled, it is uniformly cooled to prevent stress from building up. A blanket can be used to prevent drafts on thick-walled parts
Proper heating is the key to a successful billow-forming process. The sheet should be heated in the right range to avoid sudden cooling or excessive shrinkage. To ensure that the temperature is uniform, use thermocouples close to the sheet.
Drape forming
The drape forming process is used to produce anything from a simple drape to a boat or motorcycle windshield. It is even used to produce parts for medical equipment. Drapes can be formed with freeform curves and artistic shapes. The machine can be accessed from underneath the structure. A typical machine may be equipped with two or three mandrel tools.
Using a vacuum and heat, the Drape forming machine shapes and cures carbon composite material. In Steps two and six, a reusable vacuum membrane is fitted on the machine. The heat is used to preshape the textile stack and remove air. Using a low-density IR heater, the machine can also incorporate an electric transfer table with 10 thermocouples.
An inline thermoforming machine is an effective solution for production of liners made from PS, ABS, and other types of plastics. They are fully automated and autonomous. Models include the BasicLine / SuperLine Standard and SuperLine New Generation systems. The inline thermoforming machine is an ideal solution for small to medium-size projects. With the right machine, you can easily produce high-quality molded goods.