There is no denying that the images of the Pakistan flooding that we have witnessed on the news and social media over the last few weeks have been a strong indication that the world has to unite in its endeavours to reverse the environmental damage that is leading to these disasters.
Hundreds and thousands of homes were washed away, leaving millions of people homeless and jobless, watching their livelihoods get washed away in the swirling brown waters. In the immediate aftermath there is no clean drinking water, no clothes, beds, or food. The slow draining flood plains are an magnet for water born insects bringing infections and further pain, misery and death to the displaced population.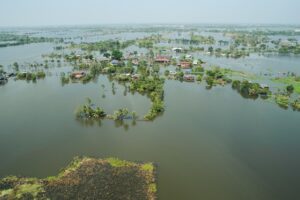 Flooding is a global emergency. During the first 15 years of the 21st century, studies have highlighted how the number of people exposed to the risk of flooding has increased by nearly 25 per cent – that is 290 million people directly affected by flooding.
Those same studies indicate that millions more will experience flooding by 2030, with those most at risk living in Asia and sub Saharan Africa.
Main causes of flooding
Heavy and prolonged rainfall
Water is an incredibly powerful element. Areas which are prone to flooding are heavily monitored, with precautions put in place such as flood plains, barrages, and other flood prevention methods. During periods of heavy rainfall those barriers are out under intense pressure. If the rainfall is prolonged beyond expectations, then there is an acute danger of those preventative barriers being compromised. River banks, dams and levees can break and quickly cause havoc – power outages, damage to the infrastructure, and the natural landscape causing rockfalls and landslides.
The link between flooding and migration
Flooding and migration are part of a cycle of worsening events that governments need to break if they want to protect their populations against the ravages of flooding, particularly in areas which are unstable and prone to climate extremes of heat and monsoon rains.
If water is restricted, many communities are forced to migrate to areas with a better water supply, placing immense pressure on existing resources and infrastructure. As these communities settle they start to alter the way the infrastructure works, and often lack of resources and immediate needs means that works such as deforestation and agriculture are focused on short term gains rather than long term improvements. As a result, existing flood control measures are compromised and weakened.
How climate change is affecting the risk of flooding
There can be no denying that climate change has a direct consequence on the increase in the risk of flooding across the globe.
Global warming means that the air is holding more water vapour then it usually does. When this air cools, it leads to heavier than normal rainfall. In hot arid countries, the dry, sun-baked ground cannot absorb the water quickly enough, leading to flash flooding.
Contributing to the additional water in circulation is the melting ice caps. Over the last 25 years Antarctica has seen about 3 trillion tonnes of ice melt in the warmer temperature, which has led to an increase in sea levels of about 8mm. There are predictions that these levels could rise to as much as five metres. This devastation that these increasing sea levels could reap on coastal towns and cities around the world are almost too terrifying to contemplate.
The social impact of flooding, particularly in the poorer, developing nations, will last for generations. The psychological impact of losing your home, and the unpredictability of not knowing when, or if, it could happen again soon, means that many will be suffering from the aftermath of flooding for many years.